PRESIDENTíS MESSAGE.

I have been wondering how many of you actually read the monthly newsletter. It takes a lot of work to put it together month after month, and I think Marie Foley is doing a great job. I would hate to think that her efforts are a waste of time, so here is what I am going to do. If you actually DO read the newsletter and read this Presidentís message, make contact with me at the October meeting for a free lottery ticket (for the first 20 people who approach me ).
The board has been busy discussing our upcoming November and December holiday dinners. It was decided that in November we would have a turkey buffet like we did last year. It was so great that we decided to do it again.

For December, we usually like to have an upgraded sit down dinner with a seafood and meat selection, and a cocktail hour with open bar. How does this sound to you? Weíve also been trying to decide what gifts to give out in December to our attendees. Any suggestions?
The budget committee came up with a great idea during their meeting, and it was approved by the board. This year at December holiday time, we would like to make a donation of some sort to the military families on Long Island who are struggling. We are researching the best way to do this. Again, any ideas?
Do any of you have ideas as to who we can share our toys with from our toy drive this year besides the Ministries? Please see Adrianne Green or any of the past presidents.

HELP!!
Most of the food banks and soup kitchens are really struggling this year. Instead of waiting until November for our annual Thanksgiving food drive, which we will still have, can you PLEASE bring some non-perishable food items to our October meeting? The items that the Ministries are out of and need the most are peanut butter, rice, juice, jelly, canned beans, tea bags, and tuna fish. It will be greatly appreciated I am sure.
Barbara Chicollo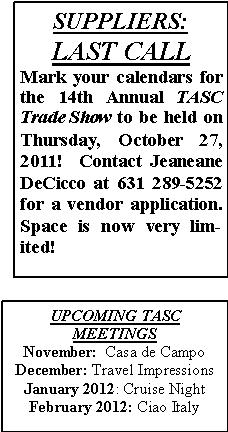 RSVPíS for the general meeting shall be made to Fran Taboneís office at
631 447-6440 or email info@baytravelandtours.com and must be received no later than FRIDAY before the meeting. If you are unable to attend the meeting after you have already responded, you must call or email to cancel.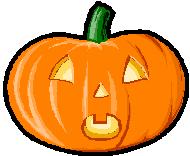 MAKING STRIDES AGAINST BREAST CANCER WALK
OCT 16, 2011 7:30 AM
JONES BEACH PARKING LOT 5
REGULAR MEETING PLACE
CC DONATIONS CAN BE MADE ON LINE THRU THE TASC WEBSITE CASH AND CHECK DONATIONS CAN BE MADE AT THE TASC MEETING ON OCT 12
MEMBERS CORNER
Great news Ken Blau is up and around and on the mend.
But Nancy Poggioli is in Huntington Hospital with pneumonia. Cards and well wishes can be sent to Nancy at
16 Fieldstone Drive,
Syosset, NY 11791